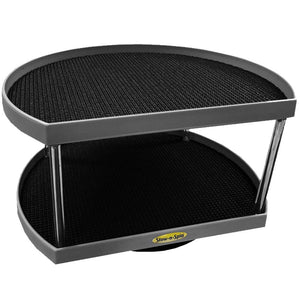 3 STYLES
Stow-n-Spin
D-Shape Lazy Susan Spice Rack
Fits 12" Deep Home Pantry Shelves 
STORAGE: Bundle and Save - 11 3/4" D x 14" W x 1 1/4" H - Our large 2 tiered Lazy Susan turntable has 14 inch wide spinning organizer trays. It can store up to 28 cans of food or 80 spice and seasoning bottles. The 1 tiered shelf stores your taller items. Each spins freely on 12" deep shelves. The 11.75" deep D shaped medicine cabinet organizer makes an excellent vitamin rack and pill bottle organizer for your supplements.
ORGANIZER: Bring the D-shape's flat side forward to close the cabinet door. Rotate the turntable and the round side comes inches off the shelf, making items easy to reach. These kitchen and bathroom accessories are great for the cupboard, counter, closet, fridge, and an under sink organizer too. The small shelf rim is short enough to read the smallest baby food jars, spice and medicine bottles.
STRONG: Galvanized steel bearing rated at 750 lbs. Positive Traction Bearing Base is safe for all surfaces. Heavy-duty shelf made with high impact polymer plastic. The 2 tiered turntable easily holds 150 lbs. The 1 tiered turn tables easily hold 100 lbs.
MORE USES: Space saving ideas for house cleaning, cooking, baking, refrigerator, bathroom, countertops, laundry, and garage shelving. Home cosmetic supply carousel storing beauty supplies, rotating skincare and hair care products, makeup, nail polish holder, vanity perfume organizer, lotion organizer, skin care organizer, tabletop organizer, swivel display stand, revolving spice rack, can dispenser for pantry or a soda can organizer for a refrigerator.
MADE IN USA: Three patents so far. The included black decorative shelf liner is non-adhesive shelf liner, vinyl, latex free and non-slip. Machine wash warm. Lay flat to dry or wipe clean
Product description
Size: 
Original Two-Tier
 |  Color:
Slate
STOW-N-SPIN
The World's Greatest Turntable
The Revolution Begins with Stow-n-Spin
STORAGE
How do you get a 14" round turntable to fit on a 12" deep shelf?
Make it a D-shape. Stow-n-Spin fits 12" deep cabinet shelves
D-shape provides 62% more storage space than a round turntable with the same depth
Storage space goes from 86 to 138 square inches per shelf
2-tier holds up to 28 canned goods or 80 spice bottles
1-tier handles your taller items
ORGANIZATION


Bring the D-shape's flat side forward to close the cabinet door

Rotate the turntable and the round side comes inches off the shelf making items easier to reach

The shelf rim is short enough to read the smallest spice bottles

Vinyl, latex free, non-slip shelf liner inserts. Machine wash warm
STRONG
Galvanized steel bearing rated at 750 lbs

Positive Traction Bearing Base is safe for all surfaces

High impact polymer plastic

2-tier easily holds 150 lbs

1-tier easily holds 100 lbs
ASSEMBLY


1-tier assembled

2-tier some assembly required
MEASUREMENTS
11 3/4" Depth x 14" Width x 1 1/4" Height

Measure your shelf, not your cabinet.

A 12" Deep Cabinet does not have a 12" deep shelf.

This Stow-n-Spin requires a minimum 12" shelf depth.

There is a full measurement chart in the pictures section
CUSTOMER SUPPORT
You may buy a Stow-n-Spin but you receive a lifetime of support
Contact us if you ever have any issues.
We'll be happy to provide a Simple Solution.
PURCHASING


Consider purchasing more than two, you'll find so many uses, you'll wish you had more

American Made

Patents D0814217, D0814219, D0814220