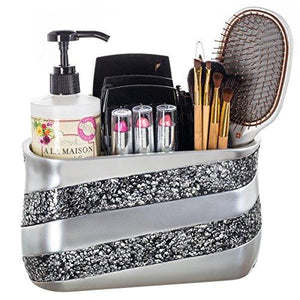 Brand: Dwellza
Color: Bathroom Organizer
Features:
ORGANIZATION MADE BEAUTIFUL The Silver Mosaic bathroom sink organizer features eye-catching color and crackled glass detailing to add a touch of style to any space, Measuring 8.5" (L) X 3.5" (W) X 5" (H)
NEATEN UP YOUR VANITY Our makeup brushes holder is divided into 3 sections to help you organize your cosmetic make up collection that much better and access your brushes much quicker, and you can use it also as a toothbrush toothpaste storage container.
DESIGNED TO LAST Heavy high-quality resin gives this makeup vanity organizer greater durability compared to regular plastic holders and eliminates the risk of rust.
UNIQUE GIFT IDEA Bundle this beauty brush holder with other items from the Mirror Mosaic Collection to create a truly memorable gift set that beautifully stands out.
100% SATISFACTION GUARANTEE We've backed our hair brush holder with a no-hassle money-back guarantee. Try it out completely risk-free. Click 'Add to Cart' now!
Publisher: Dwellza
Details: GIVE YOUR BATHROOM AN IMPRESSIVELY EXQUISITE TOUCH

Elegance in Action

Whether your bathroom has a contemporary look, a rustic feel, or more of a traditional décor, our Silver Mosaic
bath accessories complement it with color, shape, and detailing that adds an instant splash of class. You'll love
the rich silver-gray look that blends into any color scheme, the soothing gentle curves, and the crackled glass
detailing that creates exquisite drama and eye-catching dance of light. Collect the bath accessories piece by
piece to end up with a bathroom that is not only functional but an elegant sight to behold.

All about Quality

Unlike metal that easily rusts or regular plastic that quickly cracks, these bath accessories are made using a high-grade
resin that ensures maximum durability. All through the daily use and humid conditions of your bathroom, these beautiful
pieces will remain in eye-catching condition for years to come. And we've carefully sized each accessory to ensure it
saves on valuable space while still exuding a captivating presence. Experience a hard-to-find marriage between superior
quality and great functionality.

Here's why you'll love the Silver Mosaic collection:

- Made using high-grade resin to ensure maximum durability.
- Beautiful curves create a timeless look to suit any bath.
- The silver-gray hue beautifully blends into any color scheme
.
- Perfectly sized to fit even tight-spaced bathrooms.
- Unique design makes it a great gift for both men and women.
Treat yourself or that loved one to the most beautiful bath accessories that bring on the functionality without
skimping on quality. Click 'Add to Cart' now!
UPC: 700587443725
EAN: 0700587443725