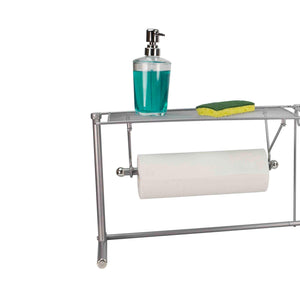 Brand: Home Basics
Color: Steel
Features:
GREAT OVER THE SINK SHELF ORGANIZER- Keep your sink space organized and neat with this kitchen sink station.
CONVENIENT KITCHEN STATION-Dry dishes, organize soaps and sponges, and keep paper towels close at hand.
EASY TO USE- The shelf fits over neatly most sink providing you with even more space to house all your kitchen essentials.
STRONG DURABLE CONSTRUCTION- Made from high quality, durable finish stainless steel.
MAXIMIZE YOUR SPACE-Make use of unused kitchen space. Dimensions; 36.5 x 9 x 11.8 inches
Publisher: HDS Trading Corp
Release Date: 15-05-2017
Details: This Home Basics Over-the-sink shelf provides extra storage space. Allows kitchen essentials to be easily accessible while clearing countertops. No more cluttered countertops or kitchen sinks, Now have your soap dispensers, sponges, plants etc. neatly stacked above your sink and keep everything neat. This over-the-sink organizer comes with a paper towel dispenser, and 5 hooks to hang up your mugs after washing the dishes.
UPC: 680847041253
EAN: 886466412546
Package Dimensions: 19.3 x 9.5 x 3.0 inches