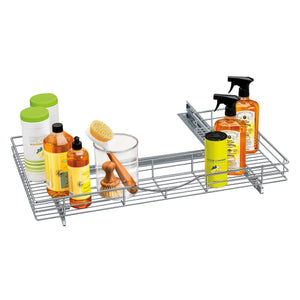 Brand: Lynk
Color: Chrome
Features:
Our advanced u-shape organizer is designed to fit neatly around pipes and work
Take advantage of the unused space underneath your kitchen sink
Professionally engineered with commercial quality steel and Chrome construction
Patented proglide industrial-grade ball bearing glide system ensures smooth, quiet sliding every time
Proprietary easy mount design requires no measuring and installs in minutes
Publisher: Lynk Inc.
Details: Lynk Professional's U-Shaped Under Sink Organizer is designed to fit neatly around pipes and work in those tight spaces found under sinks. The special shape of our newest under sink drawer makes the most of every inch of space under your sinks.
Lynk's unique stainless steel welds, strong cross-beam construction, and the highest quality steel and chrome finish give you unparalleled strength and durability. The patented ProGlide industrial-grade ball-bearing glides ensure smooth, quiet sliding even under the weight of heavy cleaning supplies. With our proprietary Easy Mount design, setup is quick and easy (with just 4 screws – included) and our clever alignment guide does the measuring for you.

Lynk Professional offers a complete selection of pull out under cabinet organizers for any cabinet in your home.

Product Dimensions: 30 inch wide x 18 inch deep x 4 inch high. Requires a minimum 31 inch cabinet opening. Hardware included.
UPC: 13359530180
EAN: 13359530180
Package Dimensions: 30.0 x 18.0 x 3.0 inches