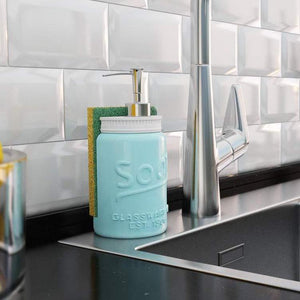 DECORATIVE SOAP DISPENSER & SPONGE HOLDER: Keeping your kitchen nice and tidy is no easy job to do, so we thought we could give you a hand by creating a kitchen product that will save you space and keep everything where it's supposed to be.

MULTIPURPOSE CONVENIENCE FOR YOUR KITCHEN SINK: Having things at hand when you need them will save you a lot of time and frustration, and with our unique soap dispenser you can be sure that you'll have both the soap and sponge in the same, easy to grab place.

STAINLESS STEEL PUMP & HIGH-QUALITY CERAMIC: Use this soap dispenser daily and be certain that it will look the same even after a few years, due to it's stainless steel pump. The high-quality ceramic will not fade with time but will keep looking amazing near your kitchen sink.

RUSTIC, FARMHOUSE DESIGN: Our kitchen sink organizer will look just right next to your other rustic kitchen accessories, and if there's any special occasion coming up, this kitchen decor piece will make a perfect gift for any person that takes pride in their kitchen.

100% HAPPY CUSTOMERS: We're so confident that you'll love our product, that we'll give your hard-earned money back if you're not thrilled with your purchase. Simply contact our friendly customer service team to make it right. It's all on us - so there is zero risk to try the product today!