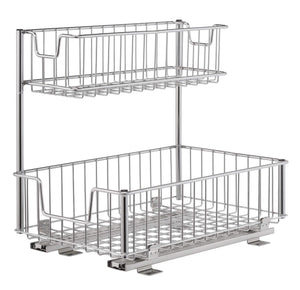 Brand: Trinity
Color: Chrome
Features:
Heavy-duty wire construction with 50 lb total weight capacity
Fully extending ball bearing slides for smooth movement and better accessibility
Product Dimensions: 11.5"W x 17.75"D x 6.25"H (Fits cabinet 13" or wider)
All hardware is included for mounting either to a cabinet or to a wire shelving unit
Reversible top basket that gives you the flexibility to use on either the left or right side, helping to work around drains or plumbing that may get in the way
Publisher: TRINITY
Details: TRINITY's Sliding Under sink Organizer is a great addition to any kitchen, bathroom, or storage area. Add these under your sink or to any 13" or wider cabinet and get instant pull-out access to your items. This organizer will help maximize storage space in areas where your plumbing may create an awkward space, and gain convenience, accessibility, and visibility to all your items. One pair of slides is included and all hardware is provided for mounting under your sink, in a cabinet, or on a wire shelf.
UPC: 813831020464
EAN: 773822369937
Package Dimensions: 18.5 x 12.7 x 5.6 inches