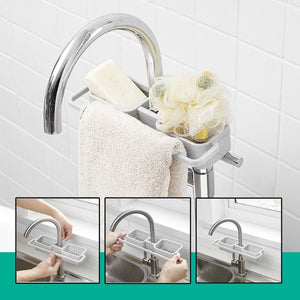 Water Tap Storage Extender is a sink organizer that will keep your sink-side areas a lot more neat! 
FEATURES:
A Smart Design to Expand and Organize your Tap Space!
This easy organizer tray will keep all your tap-side belongings
neatly organized and close and easy to reach! 
Kitchen & Bathroom Organizer: 
Keep your kitchen and bathroom tidied
with the organizing rack. It holds your sponge, soap, and other materials neatly and securely by the kitchen and bathroom sinks right where you need them. Built with
premium PP material
, this tray will provide you with a
durable and reliable organizing experience
for your home! 
Clamp Design, Drill-free And Easy Installation: 
Simply mount this on to any water taps with the easy Nail-free installation.
 Use the clamp to adjust to any size of taps, making this the ultimate organizer tray that will
fit all sizes of water tap
!
Built-in Drainboard to Keep Everything Clean and Dry:
Allows water to drain fast, and will keep your utensils away from dirty water in the pool. Whether you're keeping wet or dried sponges or soap, this tray will keep everything clean, dry, and well-kept!  
HOW TO INSTALL:
SPECIFICATIONS:
Product materials: Premium PP

Weight: 145g 

Dimensions: 
PACKAGE INCLUDED:
1* Water Tap Extended Organizer Tray